Time Line
| | |
| --- | --- |
| 11:00 a.m. | Registration Office opens for Team Check-in (only Team Captain and the Pledge Coordinator). |
| 12:00 Noon | Opening Ceremonies |
| 1:00 p.m. | Shotgun Start |
| 7:00 p.m. | Finals |
| 8:00 p.m. | Closing Ceremonies & Awards Celebration |
Site Map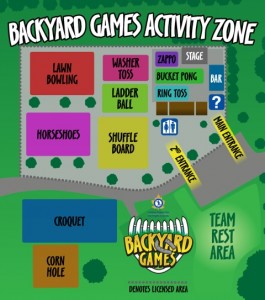 Game Zone
The game zone will be laid out to accommodate the ten backyard games. Teams will be assigned their game division and time slots when they check in at the registration area.
Team Rest Area
Each team will be assigned a rest area inside a secure zone. You can bring a tent, gazebo, BBQ, camping chairs and decorations to make your rest area a customized respite from the "stresses" of competition. The team rest area will be restricted to team members only.
Team Attire
Dress as plain or crazy as you like to represent your team. Team coordination is fun for some and some like to make fun of coordinated teams, so wear what you like, but please…at least wear pants.
Opening and Closing Ceremonies
We couldn't hold a Decathlon of this size and importance without showcasing and recognizing our lineup of teams to kick off the day. At the end of the day we will thank you all and announce our winners as well as our charity fundraising totals.
Spectators
Friends, family and well-wishers are welcome to come down and cheer on your team. They will be able to watch the games, enjoy the beer garden and entertainment and even make a small donation and try their own hand at a few of the back yard games we will have set up just for them. As it is a licensed event, spectators must be 19 years of age and over.
Food and Drink
The site will be a fully licensed facility with beer garden and food vendors on site. You will be able to bring in food and non-alcoholic beverages to your team rest area. The only alcohol allowed on site will be available at the event beer garden.